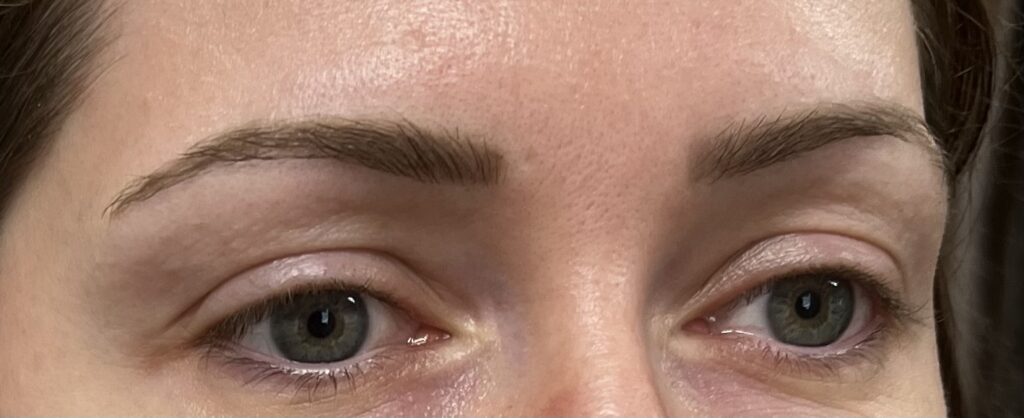 You may have seen the Facebook and Instagram pictures of big bushy dark brows. Maybe even you've seen or heard of Microbladed, 3D or Ombre permanent makeup brows.
So what is the difference? In a word: Marketing.
Basically there are two kinds of permanent makeup eyebrows. Shaded and hairstrokes. Artists will use different tools to create the effects they want. There are no better tools or techniques. What makes the difference is the artist's skill level and knowledge of what style is best for the client. The artist and client will talk about the desired end result and then using careful thought and skill, a beautiful brow is created.
Hairstrokes brows go by many names including 3D, Microbladed, Microstroke, Feathered, or Hairstroke.
Shaded brows can be called Ombre, Powder fill, or Shaded.
One disadvantage to hairstroke or microbladed eyebrows is that because there is less pigment, maintenance is required every 12 to 18 months. (Shaded brows usually 2-7 years) Because of the need for maintenance more frequently, there is a time when the skin will no longer hold the pigment and may have more scar tissue. Only 20% of people have skin types that are appropriate for hairstroke or microbladed brows.
Since microblading became popular nationwide about 8-10 years ago, many of the industry professionals have stopped offering it and focusing on some form of a shaded brow. Clients want a natural looking brow and shaded brows done by experienced artists have been providing this for many decades.
If you'd like to explore the possibility of permanent makeup, it is essential to have a consultation with a highly trained and qualified artist. This is not a service you want to bargain shop for and you will want to see actual photos of their work.
Today, most professional permanent cosmetic artists are members of the world's leading, not-for-profit society devoted to this field, the Society of Permanent Cosmetic Professionals (SPCP). This organization sets standards of practice for its members, which assures the public of the highest levels of professionalism. After permanent makeup — you'll be among those who enjoy a carefree natural look that last a long time.